Details

March 21, 2019
5:30-7:30PM
DL March Madness Cornhole Tournament
The Brass Tap, 1632 N. Mills Avenue, Orlando, FL 32803

Tip off March Madness with NAIOP's Developing Leaders
March Madness Cornhole Tournament
The Brass Tap in Mills Park
**Winning team will earn a cash prize.**
5:30 pm - Registration
6:00 pm - Tournament
Registration Information:
Member Player: $25
Member Team: $50
Non-member Player: $30
Non-member Team: $60
Social: $10
*Players registration includes tournament participation, light bites, and one drink ticket.*
100 x 100 Club Members:
This event is included with your membership.
Please email Lindsay Winter at Lindsay@naiopcfl.org to register for this event.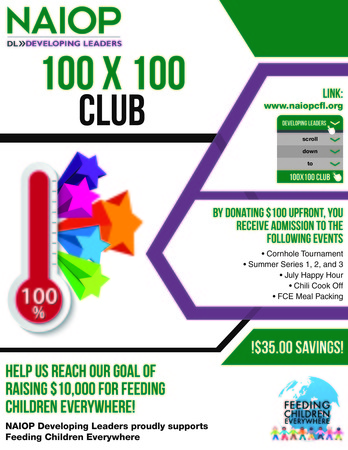 NAIOP CFL Developing Leaders proudly supports Feeding Children Everywhere. All proceeds will go towards the Meal Packing Event in which the Developing Leaders and guests will pack over 30,000 meals for local families in need.
Thank you to our sponsor:

2019-03-21 17:30:00
2019-03-21 19:30:00
America/Detroit
DL March Madness Cornhole Tournament
    Tip off March Madness with NAIOP's Developing Leaders  March Madness Cornhole Tournament The Brass Tap in Mills Park   **Winning team will earn a cash prize.**   5:30 pm - Registration 6:00 pm - Tournament    Registration Information: Member Player: $25 Member Team: $50 Non-member Player: $30 Non-member Team: $60 Social: $10 *Players registration includes tournament participation, light bites, and one drink ticket.*   Register to play or attend here!   100 x 100 Club Members: This event is included with your membership.   Please email Lindsay Winter at Lindsay@naiopcfl.org to register for this event.     Join the 100 x 100 Club!     NAIOP CFL Developing Leaders proudly supports Feeding Children Everywhere.  All proceeds will go towards the Meal Packing Event in which the Developing Leaders and guests will pack over 30,000 meals for local families in need.      Thank you to our sponsor:    
The Brass Tap, 1632 N. Mills Avenue, Orlando, FL 32803