Details

April 19, 2023
5:00PM - 8:00PM
NAIOP x UCF Case Study Competition
Dockside Lake Nona, 13623 Sachs Avenue, Orlando, FL 32827
ANNUAL UCF x NAIOP
CASE STUDY COMPETITION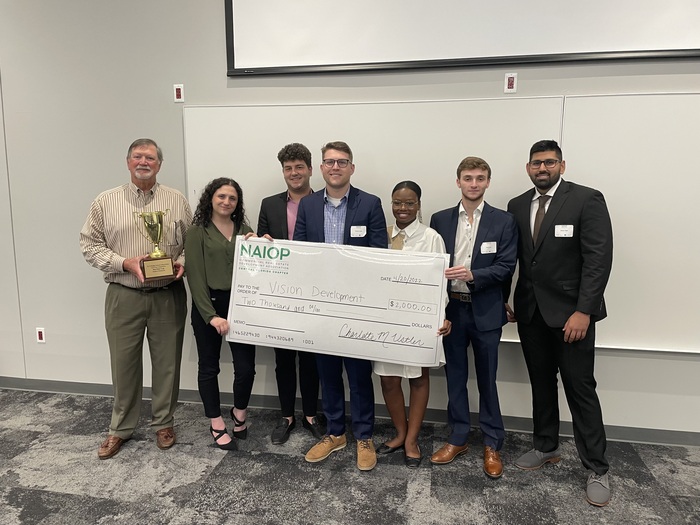 The Annual NAIOP Case Study Competition is a collegiate competition between undergraduate student teams from the University of Central Florida. Each team has been asked to evaluate a prime site in Central Florida and devise a development plan based on the current market environment.
Using the skills learned in their current course work and the sessions between the students and mentor teams (comprised of NAIOP members), each team will put together a full development plan and present it to a panel of industry experts. The panel will evaluate the presentations and select a winning team. The first place team will receive a cash reward.
This is an excellent opportunity for the students to gain real world experience as it relates to the development process, as well as fostering relationships with industry experts who have volunteered their time as mentors to the students.
How Can YOU Support the Event?
You can support the event by attending and seeing the remarkable ideas and presentations the students deliver.
Event Schedule:
5:00 pm Registration and Cocktail Half-Hour
5:30 pm Presentations Begin
7:30 pm Judges Deliberation
8:00 pm Event Ends
Registration:
*Registration includes light bites and a drink ticket.*
Event is free to attend for Students (and family members), Mentors, Committee Members, and Annual Partners.
Member: $10
Nonmember: $20
Thank you to our sponsors:
Add to Calendar
aCLuDhaqizCaPxAftmqF167204
04/19/2023 05:00 PM
04/19/2023 08:00 PM
false
America/New York
NAIOP x UCF Case Study Competition
  ANNUAL UCF x NAIOP CASE STUDY COMPETITION      The Annual NAIOP Case Study Competition is a collegiate competition between undergraduate student teams from the University of Central Florida.  Each team has been asked to evaluate a prime site in Central Florida and devise a development plan based on the current market environment.  Using the skills learned in their current course work and the sessions between the students and mentor teams (comprised of NAIOP members), each team will put together a full development plan and present it to a panel of industry experts.  The panel will evaluate the presentations and select a winning team.  The first place team will receive a cash reward. This is an excellent opportunity for the students to gain real world experience as it relates to the development process, as well as fostering relationships with industry experts who have volunteered their time as mentors to the students. How Can YOU Support the Event?You can support the event by attending and seeing the remarkable ideas and presentations the students deliver.   Event Schedule: 5:00 pm Registration and Cocktail Half-Hour 5:30 pm Presentations Begin 7:30 pm Judges Deliberation 8:00 pm Event Ends   Registration: *Registration includes light bites and a drink ticket.* Event is free to attend for Students (and family members), Mentors, Committee Members, and Annual Partners.  Member: $10 Nonmember: $20 Register / RSVP here!   Thank you to our sponsors:              
Dockside Lake Nona, 13623 Sachs Avenue, Orlando, FL 32827
---