Details

October 19, 2022
5:00PM - 8:00PM
Visionaries of Central Florida
hosted by the Developing Leaders of NAIOP, CREW, ULI, and BOMA
The Balcony Orlando, 189 S Orange Ave #1120, Orlando, FL 32801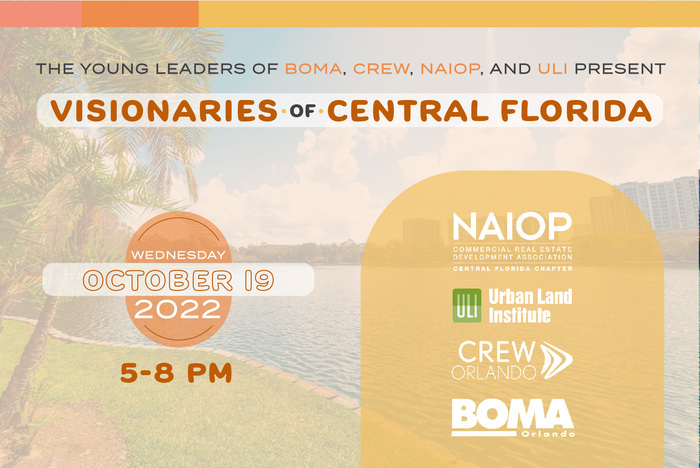 October 19, 2022
*Postponed from original date of September 28*
The Balcony Orlando
5:00 pm - 8:00 pm
This event provides a unique opportunity for young professionals (35 and younger) in commercial real estate and community development to interact and learn from the most respected leaders in Central Florida. The program consists of a series of roundtable discussions with Central Florida's most influential Leaders. Obtain valuable advice and learn about the field of expertise of each Visionary and how their vision is formed and influenced by the Millennial Factor.
Registration:
Registration is available to CRE professionals age 35 and younger.
Members of NAIOP, CREW, ULI, and BOMA: $45
Non-members: $60
Register online on CREW's website by clicking here!
Sponsorship: $300 company logo on marketing materials, event recognition, and a ticket for a representative of your company to attend the event. Representative must be 35 years old or younger.
Parking Details: We recommend you park in The Plaza Parking Garage at 15 S Court Ave, Orlando, FL 32801. Park on the 3rd floor or higher, and use the South Tower elevator to access the 11th floor. There will be signage to help you find the event.
Thank you to our sponsors:
Add to Calendar
aCLuDhaqizCaPxAftmqF167204
10/19/2022 05:00 PM
10/19/2022 08:00 PM
false
America/New York
Visionaries of Central Florida
    October 19, 2022 *Postponed from original date of September 28* The Balcony Orlando 5:00 pm - 8:00 pm   This event provides a unique opportunity for young professionals (35 and younger) in commercial real estate and community development to interact and learn from the most respected leaders in Central Florida. The program consists of a series of roundtable discussions with Central Florida's most influential Leaders. Obtain valuable advice and learn about the field of expertise of each Visionary and how their vision is formed and influenced by the Millennial Factor.   Registration: Registration is available to CRE professionals age 35 and younger.  Members of NAIOP, CREW, ULI, and BOMA: $45 Non-members: $60 Register online on CREW's website by clicking here! Sponsorship: $300 company logo on marketing materials, event recognition, and a ticket for a representative of your company to attend the event. Representative must be 35 years old or younger.  Parking Details: We recommend you park in The Plaza Parking Garage at 15 S Court Ave, Orlando, FL 32801. Park on the 3rd floor or higher, and use the South Tower elevator to access the 11th floor. There will be signage to help you find the event.   Thank you to our sponsors:                  
The Balcony Orlando, 189 S Orange Ave #1120, Orlando, FL 32801
---