Details

March 12, 2020
4:00-6:00PM
NAIOP Gives Back: Edible Education Experience
*Member Only Volunteer Opportunity*

Edible Education Experience operated the:
EMERIL LAGASSE FOUNDATION
Kitchen House and Culinary Garden


WHAT
The Emeril Lagasse Foundation Kitchen House & Culinary Garden is the first of its kind in the United States to be conceived of and built from the ground-up specifically to give children an edible education experience.
PURPOSE
The Kitchen House & Garden offers edible education experiences to Orlando Junior Academy students (throughout the academic year) as well as other local schools for after school enrichment, summer/holiday camps, field trips, Chef Night for families, Teacher's Academy, community outreach, and special events.
VISION
"Our vision is food confident communities with life-skills to embrace wholeness"
KITCHEN HOUSE
The 3,500 sq.ft. Kitchen House features a commercial kitchen classroom with four
hands-on cooking stations, including food prep and hand-washing sinks, two gas ovens, refrigerator, and freezer. In addition to a kitchen classroom, the first floor houses an educational lounge, which serves as a welcome center and meeting space. The second floor features office space for Edible Education Experience as well as office rental space, which provides ongoing income to help defray operating costs. A catwalk encircles the second-floor interior, providing a birds-eye view of the kitchen classroom below.

CULINARY GARDEN
In the 3,500 sq. ft. garden, volunteers and students will grow seasonal produce year-round to use in the edible education curriculum, community outreach, and special events. The garden sits adjacent to a covered outdoor veranda, complete with a picnic table and ample seating to enable fresh-air education.
NAIOP GIVES BACK
NAIOP volunteers will be assisting the garden educator in the Culinary Garden, building seed packets and ensuring the kitchen space is up to snuff for all our student + family classes. Please, wear clothing you don't mind getting a little dirty, as well as closed toed shoes (sneakers preferred).
LOCATION
Emeril Lagasse Foundation Kitchen House & Culinary Garden, is located across the street from Orlando Junior Academy, at 26 E. King Street, in the College Park neighborhood of Orlando, Florida.
*Parking is available on site.*
*March 12th from 4:00 pm to 6:00 pm*
*Space is limited to 20 members."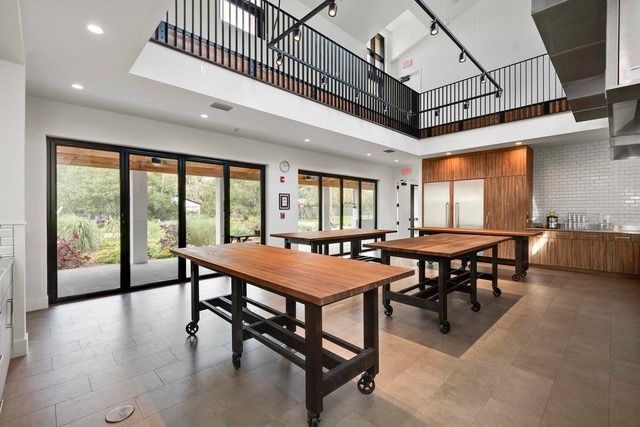 **NAIOP Central Florida reserves the right to use any photograph/video taken at any program or event sponsored and/or produced by NAIOP Central Florida, without the expressed written permission of those included within the photograph/video. NAIOP Central Florida may use the photograph/video in publications or other media material produced, used or contracted by NAIOP Central Florida including but not limited to: event flyers, marketing materials, social media platforms, brochures, invitations, newsletters, emails, websites, etc.**
2020-03-12 16:00:00
2020-03-12 18:00:00
America/Detroit
NAIOP Gives Back: Edible Education Experience
  Edible Education Experience operated the: EMERIL LAGASSE FOUNDATION Kitchen House and Culinary Garden    WHAT The Emeril Lagasse Foundation Kitchen House & Culinary Garden is the first of its kind in the United States to be conceived of and built from the ground-up specifically to give children an edible education experience. PURPOSE The Kitchen House & Garden offers edible education experiences to Orlando Junior Academy students (throughout the academic year) as well as other local schools for after school enrichment, summer/holiday camps, field trips, Chef Night for families, Teacher's Academy, community outreach, and special events. VISION "Our vision is food confident communities with life-skills to embrace wholeness" KITCHEN HOUSE The 3,500 sq.ft. Kitchen House features a commercial kitchen classroom with fourhands-on cooking stations, including food prep and hand-washing sinks, two gas ovens, refrigerator, and freezer. In addition to a kitchen classroom, the first floor houses an educational lounge, which serves as a welcome center and meeting space. The second floor features office space for Edible Education Experience as well as office rental space, which provides ongoing income to help defray operating costs. A catwalk encircles the second-floor interior, providing a birds-eye view of the kitchen classroom below. CULINARY GARDEN In the 3,500 sq. ft. garden, volunteers and students will grow seasonal produce year-round to use in the edible education curriculum, community outreach, and special events. The garden sits adjacent to a covered outdoor veranda, complete with a picnic table and ample seating to enable fresh-air education. NAIOP GIVES BACK NAIOP volunteers will be assisting the garden educator in the Culinary Garden, building seed packets and ensuring the kitchen space is up to snuff for all our student + family classes. Please, wear clothing you don't mind getting a little dirty, as well as closed toed shoes (sneakers preferred). LOCATION Emeril Lagasse Foundation Kitchen House & Culinary Garden, is located across the street from Orlando Junior Academy, at 26 E. King Street, in the College Park neighborhood of Orlando, Florida. *Parking is available on site.* *March 12th from 4:00 pm to 6:00 pm* *Space is limited to 20 members."     RSVP to volunteer here!       **NAIOP Central Florida reserves the right to use any photograph/video taken at any program or event sponsored and/or produced by NAIOP Central Florida, without the expressed written permission of those included within the photograph/video. NAIOP Central Florida may use the photograph/video in publications or other media material produced, used or contracted by NAIOP Central Florida including but not limited to: event flyers, marketing materials, social media platforms, brochures, invitations, newsletters, emails, websites, etc.**
----
---